Back

SECTIONS

WIDEST SELECTION - BEST BRANDS - BEST PRICES

FREE NEXT DAY DELIVERY OVER £70+VAT
for UK Mainlands


PRICE MATCH

#

BUNDLES

LONDON SERVICES

WE SELL PURE WATER

Call us on 0203 384 1428

TRADE COUNTER IN LONDON

Services

Come on visit our trade counter in South Wimbledon for your parts, repairs,, custom made installation and van mounted systems

VAN MOUNTED SYSTEMS
Chemspec Formula 429 PLUS Antimicrobial 5L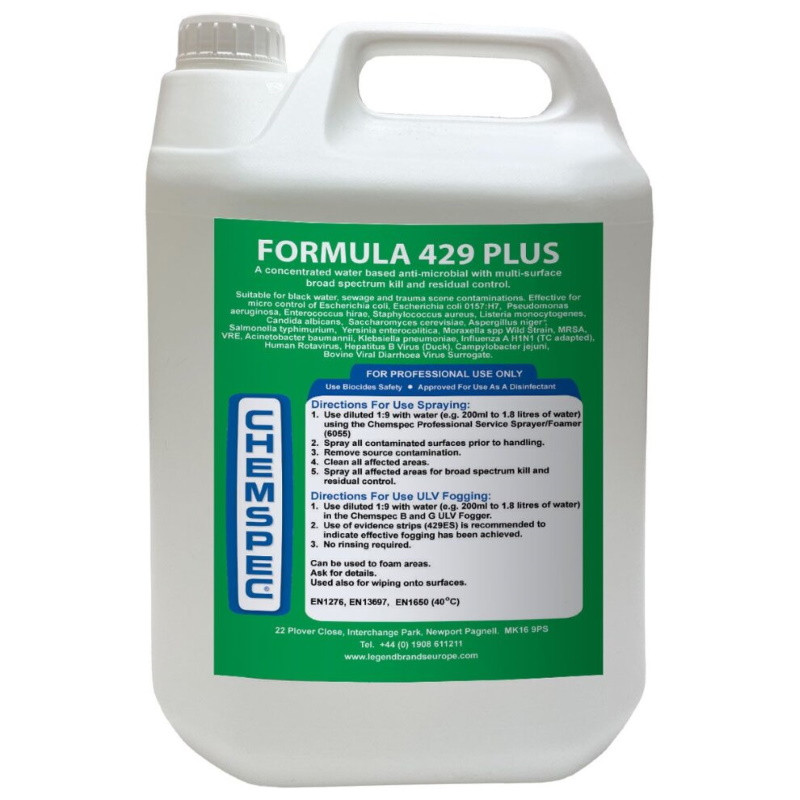  
Formula 429 PLUS has Broad spectrum of activity, Rapid kill, Residually efficacious (24 hours), Easily prepared and soluble in water, Tolerant of soil, hard water, etc,  Non-corrosive, Economical and does not form resistance.
Chemspec Formula 429 Plus
 - The ideal, fragranced, concentrated antimicrobial to help with protection from potential risks. A concentrated water based antimicrobial with multi-surface broad spectrum kill and residual control. Suitable for black water, sewage and trauma scene contamination.
Can be used on carpets, fabrics and hard surfaces.

Formula 429 Plus, a winner of NHS infection control trials through Smart Solutions for Healthcare Acquired Infection Control, is an ideal choice for all your requirements to reduce transmissions from human to human and kill the virus on surfaces.

Effective for political micro control of Covid-19, A/H1N1 swine, Mycobaclerium, Tuberculosis, MRSA, Medical Waste Treatment, Feline Calicivirus (Human Norovirus surrogate), Feline Coronavirus (SARA surrogate), enveloped and non-enveloped virus, HIV and C.difficile.
Chemspec Formula plus 429 5L
08 May 2020
By

paul H.
I am very happy with this, the service was first class and looking forward to doing more business with you