Window cleaning equipment & supplies - UK warehouse
We use cookies on this website. You are free to manage these via your browser settings at any time.

Back

SECTIONS

BUNDLES

BUNDLES

WIDEST SELECTION - BEST BRANDS - BEST PRICES

FREE NEXT DAY DELIVERY OVER £70+VAT
5% OFF OVER £100 +VAT

PRICE MATCH

#

BUNDLES

FEATURED PRODUCTS

New

LONDON SERVICES

WE SELL PURE WATER

Call us on 0203 384 1428

TRADE COUNTER IN LONDON

Services

Come on visit our trade counter in South Wimbledon for your parts, repairs,, custom made installation and van mounted systems

VAN MOUNTED SYSTEMS
Clover Amber trigger spray 750ml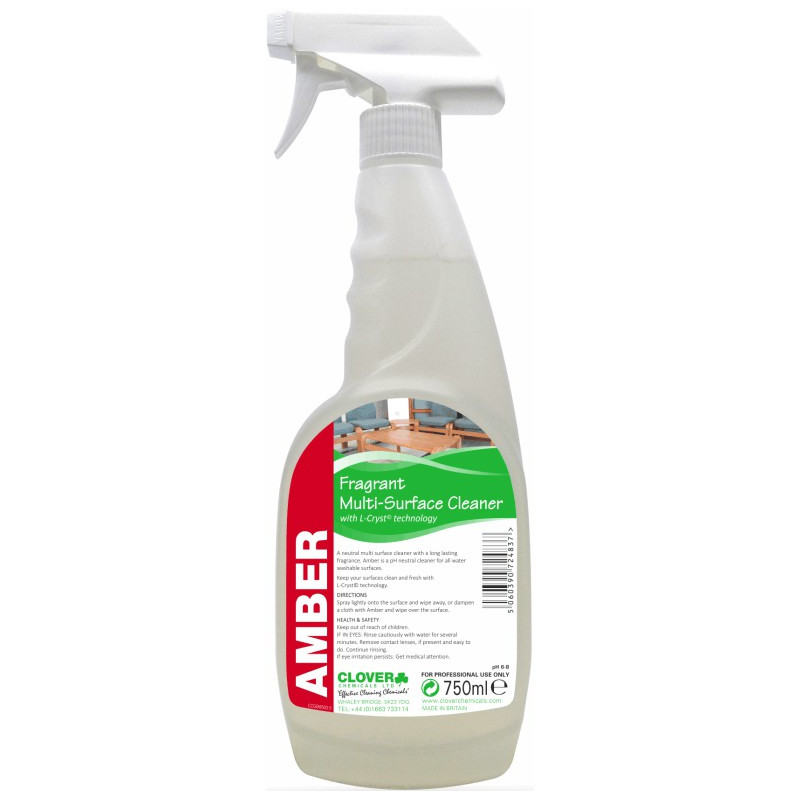  
A neutral multi surface cleaner with a long lasting fragrance. Amber is a pH neutral cleaner for all water washable surfaces. Keep your surfaces clean and fresh with L-Cryst technology.
Suitable for use on marble, terrazzo, anti-slip and textured floors, laminate flooring, metallised polish, ceramic tiles, aluminium, stainless steel and other water washable surfaces.
Amber is the ideal versatile cleaner for schools, hotels, offices, washrooms, leisure centres, etc.
Directions:
General Surface Cleaning:
Spray lightly onto the surface and remove with a clean wipe (cotton/microfibre/paper).
Floor Cleaning:
Spray lightly onto the floor and remove with a mop or microfibre pad. Rinse the mop or microfibre pad in a bucket of clean water to remove soilage during the floor cleaning process.