Back

SECTIONS

WIDEST SELECTION - BEST BRANDS - BEST PRICES

FREE NEXT DAY DELIVERY
OVER £70+VAT (UK Mainlands)

PRICE MATCH

BUNDLES

PRODUCTS

Featured

IN LONDON

WE SELL PURE WATER

Call us on 0203 384 1428

TRADE COUNTER IN LONDON

Services

Come on visit our trade counter in South Wimbledon for your parts, repairs,, custom made installation and van mounted systems

VAN MOUNTED SYSTEMS
Unger ErgoTec - 2in1 window cleaning Kit 35cm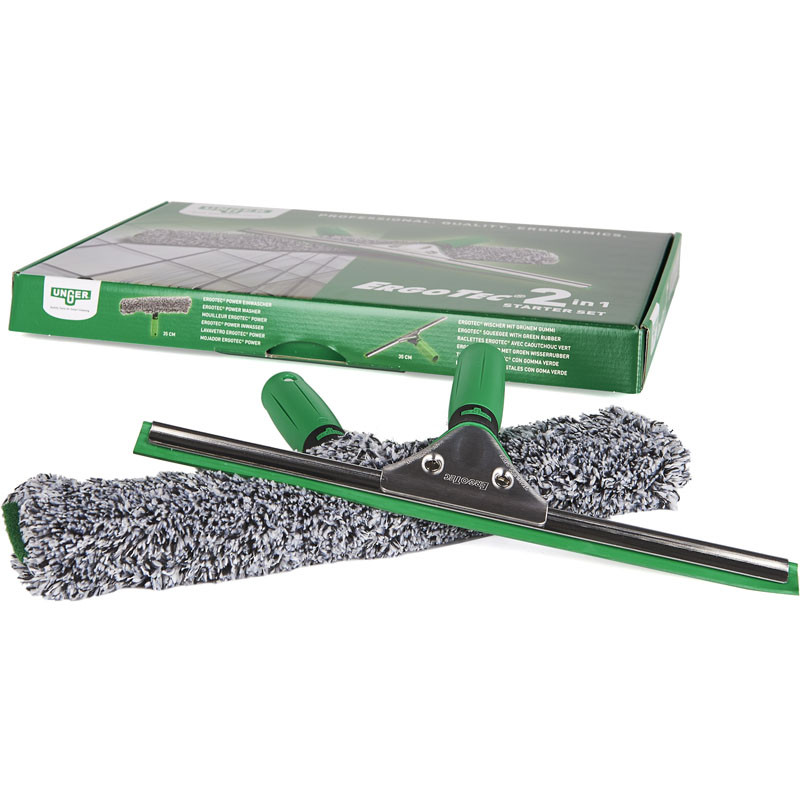  
UNGER ErgoTec 2in1 professional window cleaning starter set with squeegee and washer in 35cm
Content:
Complete ErgoTec Power Washer 35cm
Complete ErgoTec Squeegee with green Rubber 35cm
This window and glass cleaning set contains a ergonomic ErgoTec squeegee with green rubber and an ergonomic ErgoTec washer with Power microfibre sleeve.
The ergonomic 2k material handle of the ErgoTec window squeegee fits perfectly in the hand and thus prevents injuries and ensures fatigue-free working. This makes it ideal for daily use. With the help of a safety cone, twisting and falling of the window squeegee from a telescopic pole is prevented and ensures a safe process of window cleaning.
The green squeegee rubber convinces with an outstanding gliding ability and ensures streak-free results. The green rubber is suitable for year-round use. With proven professional quality made in Europe.
Due to its dense microfiber structure, the washer sleeve can hold up to 20% more water than standard microfibre sleeves, allowing you to work longer. Even stubborn dirt can be cleaned easily thanks to the integrated dirt pad. The hook & loop fastener allows the Power microfiber sleeve to be quickly removed and replaced
The t-bar handle has integrated water storage chambers, which support the high water absorption of the Power microfiber sleeve. In doing so, it increases the working time in one piece and also saves valuable time when working with telescopic poles. Its lightweight plastic handle with grooves allows a secure grip for ergonomic work in window cleaning.
The ErgoTec 2in1 Starter Set contains the 35 cm version of the ErgoTec window squeegee with green squeegee rubber and ErgoTec Power washer.
Scope of delivery:
ERGOTEC SQUEEGEE WITH GREEN RUBBER, 35cm  
Stainless steel squeegee with bi-component handle and green rubber.
* Handle with optimised S-spring
* Quick and simple channel change
* Fits securely to telescopic pole
GREEN SQUEEGEE RUBBER, 35cm  
Squeegee rubber with outstanding sliding ability.
* Streak-free results
* Reliable, long-lasting
* Professional quality - Made in Europe
ERGOTEC POWER WASHER, 35cm 
ErgoTec T-bar and power microfibre sleeve.
* 20 % higher water absorption than standard microfibre sleeves
* Machine washable and suitable for tumble drying
* Two-component handle with water wells
* Support material: 100 % polyester; Fibres: 100 % polyester
- Contains high-quality professional 35 cm ErgoTec window squeegee with green rubber
- Contains special 35 cm ErgoTec washer with Power microfibre sleeve and integrated water storage chamber
- Easy glide green squeegee rubber ensures streak free window cleaning results
- Ergonomic handles and 2k material for easy and fatigue free working
- All Unger high quality components can be also bought as spare parts and can be extended with Unger's additional accessories
Download
Unger ErgoTec - 2in1 Kit technical sheet
Download (118.49KB)
Unger ErgoTec - 2in1 Kit brochure
Download (261.9KB)
 Reviews (0) - Review moderation 
---
There are no reviews for this product yet.
Subscribe to our
Newsletter
Sign up today for exclusive offers. No spam, never. Subscribe our newsletter today!