Unger ErgoTec Ninja Combo Scraper 4" + Holster
Unger ErgoTec Ninja Combo Scraper 4" + Holster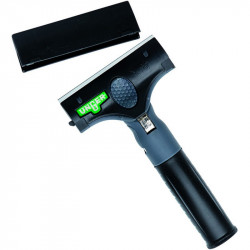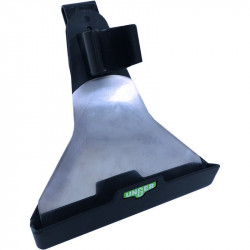 Practical Holster & Scraper Combo:
Lock the Scraper in the Holster in seconds, using EasyClip to secure the handle in place and prevent it from falling out.
Holster compatible with most 10 cm and 15 cm scrapers on the market, flat or angled
Pack content
Unger ErgoTec Ninja Scraper 4"
---
The new Unger ErgoTec Ninja Scraper features a unique pivoting mechanism which allows the angle of the scraper head to be switched from straight to 30 degrees at the touch of a button. This provides super quick adjustment and flexibility for optimum comfort and scraping performance in light and heavy duty tasks, during close manual work or pole work at a distance. It also eliminates the need to purchase two different scrapers! 
Our new razor sharp and durable stainless steel scraper blades are perfect for removing paint, decals, tape, heavy soil and debris from glass surfaces, as well as construction clean up. 
* Solid pivoting angle change mechanism, made of rust resistant stainless steel. 
* Ergonomic non-slip handle offers more grip, less slip, reducing hand, arm and shoulder fatigue. 
* Dual-sided blades are made from rust resistant 440A grade stainless steel, providing excellent edge retention and break resistance - blades stay sharper for longer. 
* Precision honing process creates a razor sharp, consistent blade edge. 
* Safer and easier blade change - push slider release lock to access and change blade. 
* Includes removable protective blade cover. 
* Compatible with Unger ErgoTec Locking Cone for secure fit to poles. 
* Fits Unger ErgoTec Ninja Holster. 
Data sheet
Material

Ergonomic

Size

4" / 10 cm

Angle

0 to 30°

Handle

Swivel

Safety

Cap
Unger ErgoTec Ninja holster
---
The Unger ErgoTec Ninja Scraper Holster provides quick, easy and accessible scraper storage - simply slide the scraper into the Holster and lock the handle into the robust clamp to prevent the scraper from falling out. Made of durable solid plastic, the Holster is built to withstand frequent contact with sharp blades thanks to its integrated stainless steel strike plate. Designed to help you minimise the risk of cuts and injuries, the Holster can be worn on a belt for safe and instant access to the scraper - perfect for working at height. !!<
Fits to most standard tool belts.
Fits the scraper with or without protective cap.
Compatible with most flat or angled 10cm / 4" or 15cm / 6" scrapers.
Data sheet
Size

4" / 10 cm

Size

6" / 15 cm
Flash Sale