Window cleaning equipment & supplies - UK warehouse
We use cookies on this website. You are free to manage these via your browser settings at any time.

Back

SECTIONS

BUNDLES

BUNDLES

SCRIMS & CLOTHES

Multi tools

WIDEST SELECTION - BEST BRANDS - BEST PRICES

FREE NEXT DAY DELIVERY OVER £65+VAT

PRICE MATCH

#

BUNDLES

FEATURED PRODUCTS

New

LONDON SERVICES

WE SELL PURE WATER

Call us on 0203 384 1428

TRADE COUNTER IN LONDON

Services

Come on visit our trade counter in South Wimbledon for your parts, repairs,, custom made installation and van mounted systems

VAN MOUNTED SYSTEMS
Chemspec Browning Treatment & Coffee Stain Remover 5L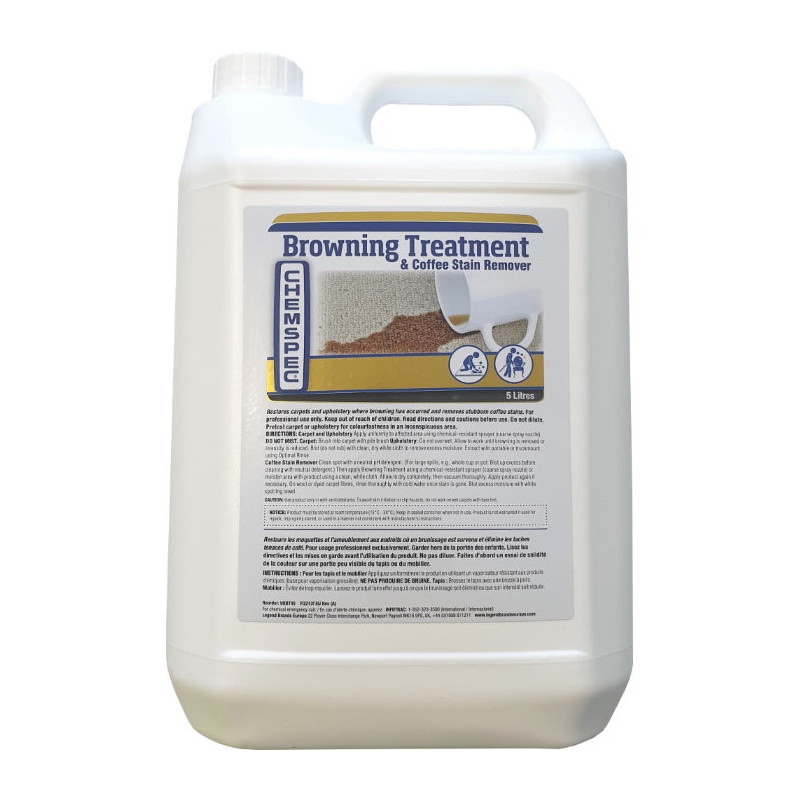  
Effective removal of coffee, tannin and dye stains.
Works on new and old stubborn stains. Can be accelerated by the heat method using a hair dryer or iron. For very severe stains it is a good idea to use a high sufactant general spotter or detergent before use such as Professional Spot Lifter particularly on wool fibres as this can help the product to penetrate into the fibres where the deepest staining is and remove the stain more effectively.
An ideal choice for large commercial area spots. For more severe stains see either Spray n Go or Dye Gone.
General Usage
Removes or reduces browning due to oversetting and bleeding through the jute backing.
When the jute carpet backing becomes overwet, jute vegetable dyes combine with the excess moisture and travel up through the carpet fibre during drying and discolour it. Browning Treatment will remove or effectively reduce the discolouration caused.
Brown or yellow animal stains due to loss of colour
An application of Browning Treatment will reduce the intensity of animal stains or in some cases, remove them completely.
Effective on upholstery as well as carpet
Use safely on upholstery. If overwet, the foam or stuffing under the upholstery fabric can discolour the face fabric. This treatment can remove the resulting browning.
Coffee, Tea or Dye staining
Apply after the use of a carpet spotter or detergent (if stain remains) straight onto the fabric or carpet to be treated. Apply heat from a hairdryer or iron method if required. The product continues to work until the product is dry. Rinse thoroughly after use as with all reducing agent type dye removers with a cold solution of water or a detergent rinse to stop the potential for fading the fibre or leaving a powdery residue.
Hints and Tips
For use on carpet & upholstery if browning has occurred
1. Do not dilute use product neat.
2. Pre-test on fabric for colour fastness in an inconspicuous area.
3. Apply treatment using a chemical resistant sprayer. Apply uniformly to the affected area.
4. Brush area with pile brush.
5. Allow Browning Treatment to work until browning is removed or intensity is reduced. Then blot (do not rub) with a clean dry, white cloth to remove excess moisture as desired.
Notes for use on upholstery.
Do not over wet.
6. Extract with a portable or truck mounted vacuum system.
A proper procedure to successfully test for colourfastness
Apply solution to a clean white absorbent cloth. Blot all colours with solution in an inconspicuous area. After blotting each colour, check cloth for dye transfer. Dry each blotted area using a hair dryer check for colour change and/or "bleed".
Browning Treatment Characteristics
pH Value: 3.5 - 4.5
Coverage: Up to 20 sq. metres per 4L
Dilution: Ready to use
Appearance: Clear Liquid
Fragrance: Sulphuric