Lightweight metal reel w/ 100m of microbore hose & aquastop
Lightweight metal reel w/ 100m of microbore hose & aquastop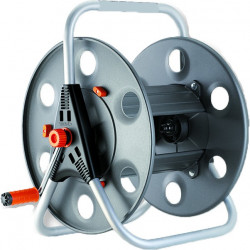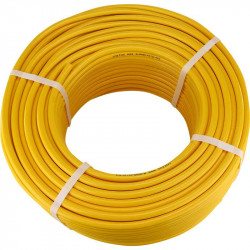 Lightweight metal reel w/ 100m of microbore hose & aquastop
Data sheet
Material

Coated steel

Choice

Pack
Pack content
Aquastop hose connector for microbore/minibore
---
Direct Minibore/Microbore to Hozelock type water-stop connector.
Fits Securely to 8mm Microbore Hose (for microbore 6mm hose you may need to warm the end of the hose).
Professional Standard - up to 40 bar Pressure
Data sheet
Type

Minibore (8mm)

Type

Microbore (6mm)

Material

Plastic
Freestanding sturdy lightweight metal hose reel
---
Entirely metallic, this hose reel can be hung on a wall with the specific brackets or transported wherever it is needed and placed stably on the ground.  Finished with epoxy resin that protects it from rust, it is complete with automatic coupling to connect the hose. It has an ideal capacity even for medium-sized gardens: up to 85 metres of 1/2" hose.
shock-proof and weather resistant
convenient handle
no-twist groove
ergonomic design quick tool-free assembly.
No tools required for assembly
Data sheet
Material

Coated steel

Choice

Bare
100m Microbore Reinforced hose 11mm x 6mm
---
Safety Yellow twin re-inforced construction 11mm outer diameter and 6mm inner diameter.

Most popular with water-fed window cleaning businesses due to space and weight saving.
Data sheet
Type

Microbore (6mm)