Window cleaning equipment & supplies - UK warehouse
We use cookies on this website. You are free to manage these via your browser settings at any time.

Back

SECTIONS

BUNDLES

BUNDLES

WIDEST SELECTION - BEST BRANDS - BEST PRICES

FREE NEXT DAY DELIVERY OVER £70+VAT
for UK Mainlands


PRICE MATCH

#

BUNDLES

FEATURED PRODUCTS

New

LONDON SERVICES

WE SELL PURE WATER

Call us on 0203 384 1428

TRADE COUNTER IN LONDON

Services

Come on visit our trade counter in South Wimbledon for your parts, repairs,, custom made installation and van mounted systems

VAN MOUNTED SYSTEMS
DIY pure water fed kit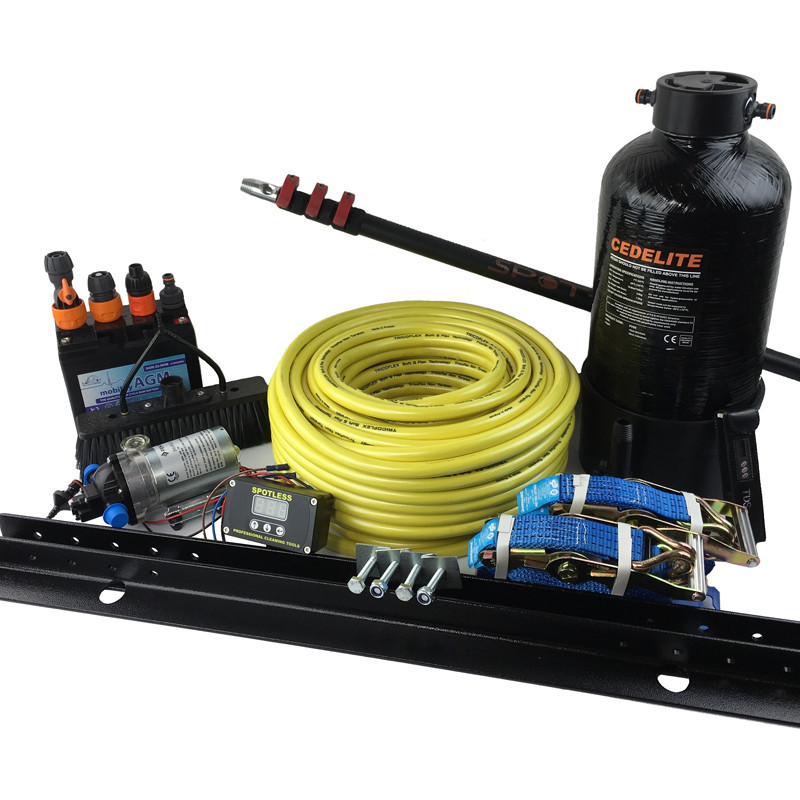  
Image is for illustration purposes only, may vary according to your selection.
The ideal kit with quality materials for a low budget...or for those who have just started in the window cleaning business or moving across to the water-fed pole system. Read the description and guidance information here and then select all the different parts that you want to make up your system below...when you click on "buy" you will get a total price for the kit:
1) Your pole, choose the length, brush head, tubing and connector
Guide: 17ft pole is usually ok for most ground and first floor windows in standard properties Ultralite Double Trim brush is good all rounder "Flagged" brush better if you will be cleaning facias, soft and vehicles where you might be concerned about scratching) "UnFlagged" brush better if you require slightly more scrubbing action Tubing - choose your preference. Re-inforced likely to last longer Connector: "Mini Hosetail" is best seller
2) Select the adaptor that your connector will click in-and-out of - this will depend on which connector you choose
Guide: Choose the hoselock-type pole control valve if you select either of the hoselock connectors above. If you selected "Mini Hosetail" then select the Mini Endstop - either 6mm or 8mm hosetail depending on what hose you select for your reel)
3) Select the size of resin vessel that you require (mostly this is just down to how often you are happy to replenish the resin
Guide: The resin vessels here will come full of resin and male hoselock-type fittings on the 'in' and 'out' of the head unit.
4) Select your pump & if you want a strainer (recommended in order not to invalidate the pump warranty
Guide: Select the 4L version if you choose not to have a water flow controller. The 5L version should be used with the Varistream or Variflo+ controllers
5) If you want a water-flow controller select that here
Guide: improves the lifespan of your pump and also helps you control exactly the flow rate you want from the brush head.
6) Add a tap adaptor
Guide: this is to connect your feed-water hose to a standard garden tap - has a 3/4" and 1/2" female thread
7) What type of hose you want to use
Guide: Microbore is 6mm bore and Minibore is 8mm bore, or use 1/2" Standard garden hose
8) What type of hose reel and if you need an adaptor
 Guide: the reels come ready for 1/2" hose as standard so if you choose a different type you need to select an appropriate adaptor
9) RO System
Guide: Use an RO system if you live in a hard water area (or have high TDS reading from your normal tap water) as this will increase the lifespan of your resin and save money on this in the long run.
10) Adaptator for RO System
Guide: converts tubing on the RO system to hoselock-type or garden hose fittings.
11) Your tank
Guide: Select the right size according to your needs and vehicle capacity. When comparing against your vehicle payload consider the weight of a full tank of water, yourself, your other kit and a full tank of fuel to ensure you dont exceed the safe limits
12) Tank valve/tap
 this will depend on which size tank you require
!13) If you need a fixing system to install your tank
 14) TDS meter to test the purity of your water
15) Water-stop connectors
Guide : 1 for the tap, 2 for the RO System, 2 for the Resin Vessel head unit
16) 1/2" hose for couplings
17) Battery size
Guide: only gel can be sent via courier
18) Van bedliner.
Guide: If you have a van, prior to installation you would be advised to apply Protectakote to the floor to protect if from water damage. For example you could take the complete starter DI kit with an 17ft pole featuring a double trim brush, plastic angle adaptor and reinforced tubing with a mini hosetail connector, a Mini endstop 8mm size, 11L vessel full of resin, a 4L/min Shurflo pump 100psi & strainer, 100m of Minibore (8mm), Metal hose reel with Minibore adaptor, a 125L upright tank and a tank valve to connect the tank, metal and straps fixing system, a TDS meter with case with thermometer, 5 Waterstop Connectors and 30m 1/2" reinforced PVC hose for couplings, 26Ah battery.
Data sheet
Choice

Make your own