Back

SECTIONS

WIDEST SELECTION - BEST BRANDS - BEST PRICES

FREE NEXT DAY DELIVERY
OVER £70+VAT (UK Mainlands)

PRICE MATCH

BUNDLES

PRODUCTS

Featured

IN LONDON

WE SELL PURE WATER

Call us on 0203 384 1428

TRADE COUNTER IN LONDON

Services

Come on visit our trade counter in South Wimbledon for your parts, repairs,, custom made installation and van mounted systems

VAN MOUNTED SYSTEMS
Unger HydroPower Ultra LC + nLite Carbon 24K 8.6m pole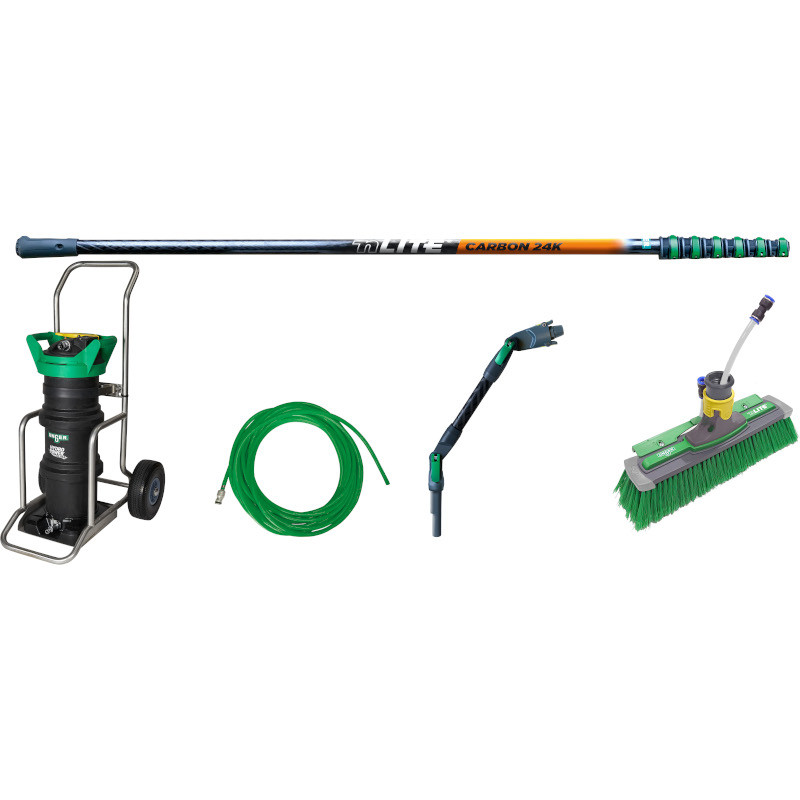  
(ex. VAT)
Please allow 2-3 working days
Everything you need to start window cleaning with pure water
Window cleaning system to reach and wash at heights of up to 10m (33ft).
Perfect for cleaning windows and building facades, solar panels, vehicles and much more!
Pure water fed pole window cleaning system includes:
Contents: DIUH3 HydroPower® Ultra Filter LC (Working hours approx. 20 h Coverage in m2 approx. 2.000 m2)
CF86G nLITE® Carbon 24k 8,6 m
NGS30 nLITE® Angle adapter kit M, 42 cm
NFK28 nLITE® Power Brush, spliced, 28 cm
DLS25 DuroFlex hose, 25m
Efficient pure water filter for low water needs and small surfaces.
    * Produces 100% pure water
    * Including fine filter, for pre-filtering of the water
    * Complete with TDS meter to measure inflow and outflow PPM (parts per Million)
    * Mobile use on site.
    * Stored on practical trolleys with large rubber rolls and tilt protection
    * Requires no electricity.
    * Standard garden hose connection.
    * Compatible with Unger Ultra Resin Packs.
The Unger HydroPower Ultra is setting a new standard in deionising filter technology for pure water cleaning. A definite value-add for every professional window cleaner and cleaning specialist.
NEW: Ultra Resin Packs deliver over 30% more pure water per resin fill:
The FloWater 2.0 technology in each Ultra Resin Pack provides an efficient water flow through the entire tank, optimising resin utilisation.
The Premium Ultra Resin is a new ion exchange resin specially perfected for the requirements of glass cleaning.
The digital TDS meter indicates at the touch of a button when the Ultra Resin Packs need to be replaced. The Ultra Resin Packs can be changed as easily and quickly as a coffee pad in a coffee machine.
The sturdy stainless steel hose connectors are equipped with a practical shut-off valve to prevent leakage during transport. A pre-installed dynamic control system guarantees optimum water flow at all times.
Download
New Unger nLite brochure
Download (1.16MB)
 Reviews (0) - Review moderation 
---
There are no reviews for this product yet.
Subscribe to our
Newsletter
Sign up today for exclusive offers. No spam, never. Subscribe our newsletter today!