Window cleaning equipment & supplies - UK warehouse
We use cookies on this website. You are free to manage these via your browser settings at any time.

Back

SECTIONS

BUNDLES

BUNDLES

SCRIMS & CLOTHES

Multi tools

WIDEST SELECTION - BEST BRANDS - BEST PRICES

FREE NEXT DAY DELIVERY OVER £65+VAT

PRICE MATCH

#

BUNDLES

FEATURED PRODUCTS

New

LONDON SERVICES

WE SELL PURE WATER

Call us on 0203 384 1428

TRADE COUNTER IN LONDON

Services

Come on visit our trade counter in South Wimbledon for your parts, repairs,, custom made installation and van mounted systems

VAN MOUNTED SYSTEMS
Unger Indoor Window Cleaning Kit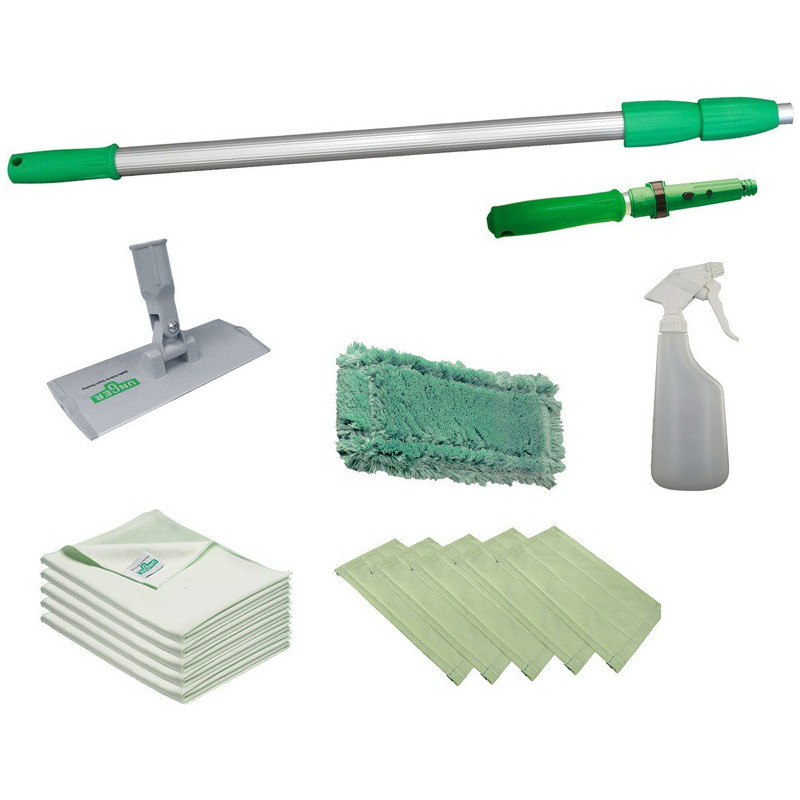  
89.19 tax excl.
(ex. VAT)
Please allow 2-3 working days
The quick and easy-to-use Kit is ideal for polishing of windows and mirrors, as well as cleaning of glass surfaces on escalators, internal elevators and balustrades. With Unger's best-selling telescopic Pole included, reaching up to 1.85m/6ft high, you can clean high fixtures safely and comfortably from the floor. Perfect for any user without window cleaning experience, the Kit also includes shorter 14cm handle for lower level applications. 
How it works: Attach one of the Pads onto the Padholder across Velcro backing. Fit the Padholder onto a Pole, spray the Pad with deionised water and you are ready to go! 
The swivel head Padholder allows to reach any cleaning angle, whereas ultrafine, short microfibre pad sprayed with pure deionised water provides sparkling streak free finish. Alternatively, use the thick 15mm long microfibre pad for periodic washing and heavy soil. Both pads are machine washable up to 200 times.
 Features
1 x ED180 OptiLocTM 3-section Telescopic Pole, 1.85m/6'
1 x HH000 Ergo Handle Extension, 14cm
1 x PHH20 Swivel Head PadHolder, 20cm
1 x PHW20 Microfibre Pad for Washing, 20cm
5 x PHL20 Unger HiFlo MicroFibre Cleaning Pad 20cm
5 x MF40L MicroWipeTM Cloth for Glass
1 x Sprayer Bottle