Moerman Liquidator 3.0 Channel 14"/35cm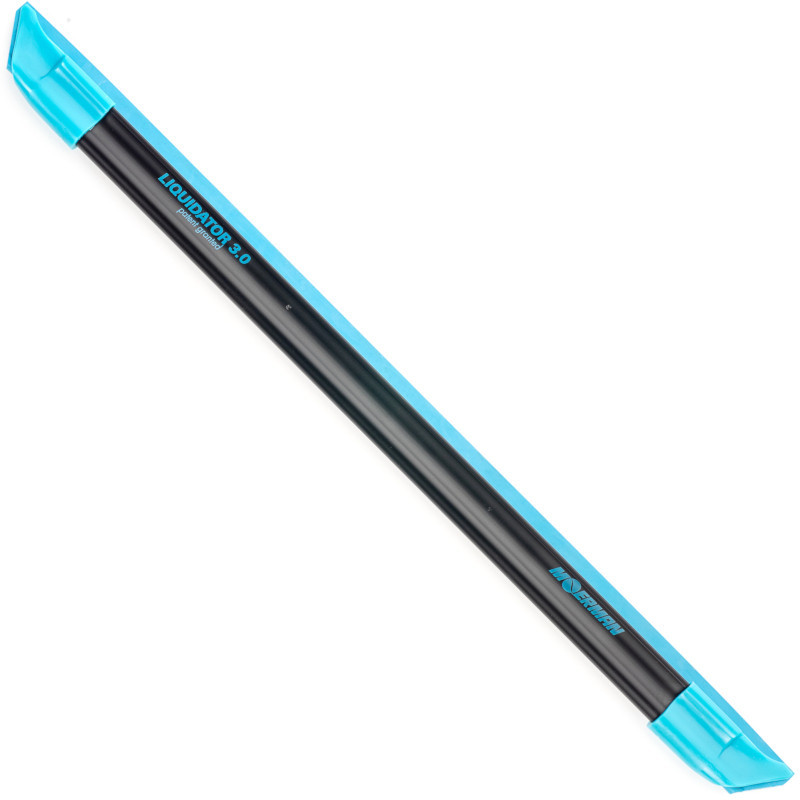  
Tired of having to detail the edges of the window? Want to get rid of those annoying water drops that get left behind in the corners? Liquidator 3.0 is the solution!
The patented liquidator becomes more and more standard equipment for professional window cleaners. This legendary channel is now updated for better performance: meet the Moerman Liquidator 3.0 channel.
It is an angled edge channel, unique in its kind and now even more accurate than ever before. Developed with window cleaners for window cleaners. The end clips of the Liquidator 3.0 are designed for wiping a window much more efficiently without having to detail the edges.
Comes with Liquidator NXT-R rubber
Fixed end clips are frame-friendly
Lightweight aluminium material
Better rubber pinching
Handle alignment dots
Shorter learning curve compared to Liquidator 2.0
Fits all handles
The Liquidator 3.0 works great on all kinds of windows: thick or thin rubber seals, old or new steel edges, all types of frames...
Ensures smooth and easy performances without excessive strain on arms and shoulders - even after hours of intensive window cleaning.
For optimal performance of your Liquidator 3.0:
Centre Liquidator NXT-R rubber in the channel
Use enough detergent, best applied directly to the sleeve
Put minimum pressure for best results
Get a feel for the right technique
No detailing the edges of the window
WHAT'S THE DIFFERENCE WITH THE LIQUIDATOR 2.0?
The aluminium black channel is the same robust quality
Liquidator 3.0 now mentions "patented" instead of "patent pending"
Liquidator 3.0 comes standard with the new NXT-R rubber instead of the black rubber
* no need to choose between soft or hard rubber anymore, NXT-R is an all-seasons rubber
* difference in the patented turquoise end-clip
* smooth design-flow
* end tip is less curved for less pressure on the rubber
* end clip has a firmer grip on the round top of the rubber to hold it better
Very small visual changes at first sight but big in use: the core difference for the channel is in the turquoise end-clip: it's less curved to provide less pressure on the rubber, together with a firmer grip on the rounded part of the rubber that slides in channel. We've combined this with a smoother design of the end-clip and the NXT-R all-seasons rubber that's now standard in the Liquidator 3.0 channel. No more need to choose between soft or hard rubber!
 Reviews (2) - Review moderation 
---
Moerman Liquidator 3.0 Channel
    
Besides having a text to confirm the estimated time of delivery & ordering before 3pm & I was having a dabble in window cleaning by noon the next day . First time I've used this product, in the past I've only used squeegee's that only costed a £ . The Moerman Liquidator 3.0 Channel leaves no streaks & cuts out the wiping of the edges. This website is not only cheaper but faster .
By Mike L. the 15 Aug 2022
Definitely an improvement on the 2.0 and its good that it finally comes with the NXT R rubber
By Neil L. the 5 Apr 2021